Notice
Researchers are advised that the booking service of the Acceptance Secretariat is suspended from August 10th to 31st.
Researchers are advised that starting from 18 May 2022 it will be possible to make reservations for the academic year 2022/23.
Editorial news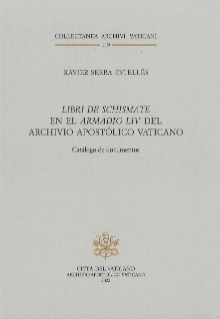 Xavier SERRA ESTELLÉS, Libri de Schismate en el Armadio LIV del Archivo Apostólico Vaticano. Catálogo de documentos, 2022, pp. XV, 647, tav. 8
[Collectanea Archivi Vaticani 119].